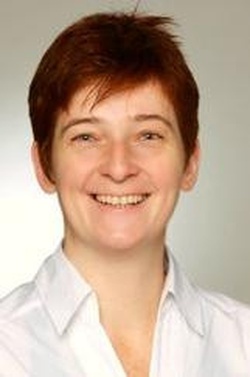 Sigrid Stagl
Univ.Prof. Mag.Dr.
Sigrid
Stagl
M.S.
Telephone:

Email:

About me:

Sigrid is an economist and full professor at WU in Vienna. Currently she works on (1) sustainable work, (2) ecological macroeconomics, (3) integrated sustainability assessment methods and (4) socio-economic theories of human behaviour. Her PhD in the field of Ecological Economics was awarded by RPI in Troy, New York. Before returning to Vienna she worked at the Universities of Leeds and Sussex. From 2001 to 2012 she served in the governance of the European Society for Ecological Economics (ESEE). At WU she is currently the Head of the Institute of Ecological Economics, Deputy Chair of the Department of Socio-Economics and Programme Director of the MSc Socio-Ecological Economics and Policy.
Contact information and photo taken from and editable at WU Directory.
Affiliation
CV
2015
Deputy Head of the Research Institute Economics of Inequality
since 2014
Head of Institute - Institute for Ecological Economics
since 2014
Deputy Department Chair - Dept. Socioeconomics
since 2008
Professor, Insitute Ecological Economics, Vienna University of Economics and Business Administration

2005

-

2009

Senior Fellow, Science and Technology Policy Research (SPRU), University of Sussex

2001

-

2005

Lecturer in the School of Earth and Environment at the University of Leeds

1998

-

2001

Lecturer

1996

-

1997

Teaching Assistant Rensselaer Polytechnic Institute, Troy, New York, U.S.

1993

-

1995

Research Assistant
Researcher Identifier
No researcher identifier found.
Awards and Honors
2001

Young Economist Award, Austrian Economic Association

2000

Forschungspreis für Ökologische Ökonomie der Schweisfurth-Stiftung, München (siehe: www.schweisfurth.de/navigation/frame_preise.htm)
Classifications
Expertise
agent-based modelling
evolutionary economics
institutional economics
multicriteria decision aid
ecological economics
Behavioural Economics
Activities
Position in scientific committee
since 2010
Kommission für Forschung und Internationales - Vertreter/innen der Professor/inn/en

2010

-

2013

European Society for Ecological Economics (ESEE) - President
Position in jury, advisory board, curatorship
since 2014
FWF Kuratoriumsmitglied
since 2012
Kapp-Forschungspreis für Ökologische Ökonomie - Jury Member
Position in committee for appointments
2015
Berufungskomission Nachhaltigkeitsökonomie - Mitglied Berufungskommission
Position in habilitation committee
2016
Habilitationskommission Nina Eisenmenger - Mitglied Habilitationskommission

2013

-

2015

Habilitationskommission Gatzweiler - Mitglied Habilitationskommission
Position in internal committee for appointments
since 2017
Full Professor of Operations Management (Nachfolge Prof. Jammernegg) - Kommissionsmitglied

2014

-

2015

Berufungskommission Regional Science - Vorsitzende

2014

-

2015

Berufungskommission Health Economics - Mitglied

2014

-

2015

Berufungskommission Empirical Business Research - Mitglied

2014

-

2015

Berufungskommission Empirical Business Research - Mitglied
2013
Berufungskommission "Strategic Management" - Mitglied

2012

-

2013

Berufungskommission "Data and Knowledge Engineering - Mitglied
Position in internal habilitation committee
2017
Habilitationskommission Bilat Barakat - Mitglied Habilitationskommission
2016
Habilitationskommission Karin Rabitsch - Mitglied Habilitationskommission
2016
Habilitationskommission Gerhard Wohlgenannt - Mitglied Habilitationskommission

2015

-

2016

Habilitationskommission Kerstin Neumann - Mitglied Habilitationskommission
2015
Habilitationskommission Armon Rezai - Mitglied Habilitationskommission

2014

-

2015

Habilitationskommission Sabine Sedlacek - Vorsitzende Habilitationskomission

2012

-

2013

Habilitationskommission "Reinhard Steurer" - Mitglied Habilitationskommission
Member of the editorial board
since 2009
Ecological Economics
since 2008
Environmental Policy and Governance
since 2004
Environmental Values
Organization scientific meeting (Conference etc.)
2016
NachhaltigkeitsKontroverse - Diskussionsteilnahme
2015
Inaugural Event Institute for Ecological Economics
2014
WU Competence Day
2014
EMAH Konferenz
since 2013
Research Seminar Series
2012
Responder ICT - Workshop

2011

-

2012

Green Controversies - Veranstaltungsreihe
2011
Ecological Macroeconomics Workshop III
2010
Resilience and Adaptation to Climate Change - Workshop
2010
Ecological Marcoeconomics Workshop II
2009
Ecological Macroeconomics - Workshop I
Positions in public advisory boards, Consultant
since 2010
WIFO - Konsulentin im Bereich "Environmental Economics"
Supervisor dissertation
since 2016
Andrei Spiridon - "Sustainable Transformation of the Financial Sector"
since 2015
Dörflinger, Aliette
since 2014
Weiss Teresa - Green economy
since 2014
Schanes, Karin - Sustainable behaviours
since 2014
Miess, Michael Gregor - Financialization and its relation to sustainable economic development and distributional issues
since 2014
Marc Schabka - Smart City and Smart Mobility From a Socio-Ecological Economic Perspective
since 2014
Katarzyna Gruszka - Transformation: Voices of contestation for change. An Exploration of collaborative economy and pluralism in economics as two potentially transformative concepts
since 2014
Gillian Foster - The future of plant-based ethylene in the era of shale gas: an economic and environmental assessment of a sustainable technology
since 2014
Florentin Glötzl - Lending, Borrowing and Debt ¿ Sectoral Imbalances and the Great Recession
since 2012
Sigrid Stix - Three Essays in Environmental Policy
2012
Laura Videla - An empirical analysis of the relations between energy use, carbon emissions and economic development in Latin-America and the Caribbean region
since 2012
Annika Scharbert - Spaces for change? Agency in socio-ecological transformation
2010
Lukas Kühnen - Sustainability Appraisal of Biologic Options to Capture Carbon for Mitigation and Adaptation to Climate Change under Multiple Criterias with a special Emphasis on the Use of Biochar in Research and Development Communities

2010

-

2015

Karin Dobernig - Growing Food in the City: An exploration of urban farming practices in New York City

2010

-

2015

Armin Dieter - Socioecological perspectives on the European Raw Materials Initiative
Attendance scientific meeting (Conference etc.)
2017
WWF Ökobüro Energie Konferenz 2017 - Reflektorin
2017
VID Colloquium
2017
Gutes Leben für Alle Konferenz - Teilnahme Abschlussreflexion
2016
Wittgenstein Centre Conference 2016
2016
Wachstum im Wandel - Keynote Speaker
2016
Vienna Joint Economics Seminar
2016
VHS Wien "Gewerkschaften im (Klima-) Wandel ¿ Zur Zukunft von Arbeit und Ökologie¿ - Diskussionsteilnahme
2016
Tiefenbohrungen und NachhaltigkeitsKontroversen
2016
Podiumsdiskussion: Arbeit und Versorgung in der Postwachstumsgesellschaft, AK Tirol - Diskussionsteilnahme
2016
Open Minds Diskussion
2016
OenB Kamingespräche
2016
Lange Nacht der Kirchen "¿Die Menschen folgen dem Fluss des Geldes!¿ - Diskussionsteilnahme
2016
ISEE Conference 2016 - Vortragende
2016
GlobArt Academy - Teilnahme Gesprächsrunde
2016
Forum Alpbach - Seminarleitung
2016
Dialogkonferenz ¿Verteilungsgerechtigkeit¿ - Diskussionsteilnahme
2016
Austrian Chapter Club of Rome "Globale Nachhaltigkeit braucht nationale Aktion" - Moderation
2016
Alpbach Talks
2016
8. Spiekerooger Klimagespräche - aktive Teilnahme
2016
2. Internationaler Kongress des Marxismus-Feminismus
2015
Wittgenstein Centre Symposium - Roundtable
2015
Institutseröffnung: Economics of Inequality
2015
Inaugural Event Institute for Ecological Economics
2015
ESEE Conference 2015 - Keynote Speaker
2014
Wohlstand ohne Wachstum - auch im Süden? - Diskussionsteilnahme
2014
WINIR Conference - Teilnahme
2014
Roundtable des European New Economics Research & Policy Network - Teilnahme Roundtable
2014
Re-Source Konferenz 2014 - Teilnahme Podiumsdiskussion
2014
Ökonomisches Denken in ökologischen Grenzen - ökologische Makroökonomie in der Diskussion, WU Wien - Teilnahme Podiumsdiskussion
2014
Jahrestagung der Nationalökonomische Gesellschaft (NOeG) 2014 - Teilnahme
2014
ISEE Conference 2014
2014
IÖB-Workshop (BMVIT) - Teilnahme
2014
Fachdialog zum Thema Wohlstand ohne Wachstum? Zwischen Utopie, Vision und Notwendigkeiten - Vortragende
2014
European New Economics Research & Policy Network, Univ. Klagenfurt - Roundtable
2014
EMAH Konferenz
2014
DeGrowth Conference - Teilnahme
2014
CIPRA Experten Workshop II - Teilnahme
2014
1st Austrian Conference on International Resource Politics - Teilnahme
2014
1. Wr. Hochschultage "Wer stellt die Weichen für eine nachhaltige Zukunft?" - Diskussionsteilnahme
2013
"Social-ecological transformation – different approaches, open questions" - Comments "Ecological economics on climate change and socio-ecological transformation"
2013
www4europe Feedback Conference - Teilnahme
2013
WU - Open Minds "Klimakollaps oder Energiewende" - Teilnahme Podiumsdiskussion
2013
Umweltdachverband: Gemeingut Wasser - Alleingut Profit. - Teilnahme Pressekonferenz
2013
Umweltdachverband: Gemeingut Wasser - Alleingut Profit - Teilnahme Pressekonferenz
2013
FESSUD Conference - Teilnahme
2013
E-IÖB-Tool 2. Workshop - Teilnahme
2013
10th ESEE Conference - Chair
2013
"Knowledge, Belief and the Economic System Kenneth Joseph Arrow", OeNB - Teilnahme Podiumsdiskussion
2013
"Der geplünderte Planet" - Ministerium für ein lebenswertes Österreich - Teilnahme Podiumsdiskussion
2013
"Contributions of Ecological Economics to Policy - Science", Greens/EFA group - Teilnahme
2012
"Nachhaltiges Wirtschaften und Arbeiten". Arbeitskreis für europäische Wirtschaftspolitik. AK Wien - Vortrag
2012
"Kampf dem Rebound: Energiesparen durch geringere Energieeffizienz!" Energiegespräche TU - Vortrag
2012
Zukunftsdialog 2012 der VBV Vorsorgekasse AG - Dialogteilnahme
2012
WWWforEurope Workshop
2012
Workshop "Nachhaltiges Wachstum". BMASK - Vortrag
2012
Wirtschaft trifft Umwelt. Bank Austria Vorlesung zur Nachhaltigkeit. - Vortrag
2012
Statistiktag 2012, Statistik Austria - Teilnahme Podiumsdiskussion
2012
Responder ICT - Workshop
2012
RECOM - Vortrag
2012
Plattform nachhaltige Universitäten, BOKU Wien - Fachexpertin
2012
Nachhaltiger Konsum, BOKU Wien - Referentin
2012
Kritische Ressourcen Workshop. WU
2012
Kosten-Nutzen-Tool für Investitionsentscheidungen der innovationsorientierten öffentlichen Beschaffung, BM f. Umwelt, Naturschutz u. Raktorsicherheit, Berlin - Diskussionsteilnahme als Expertin
2012
ISEE Conference 2012
2012
FESSUD Kick-off Workshop
2012
Fachkongress Ressourceneffizienz und Umwelttechnologien
2012
Expertenworkshop Bundesumweltministerium Deutschland. Berlin. - Vortrag
2012
Expertenrunde: "Resilienz: Welches Wachstum für eine zukunftsfähige Wirtschaft?" ÖNB
2012
AK OÖ Zukunftsforen - Fortschritt sozial-ökologisch gestalten. AK Linz - Vortrag
2012
Conference on the New Thinking in Economic
2011
Sustainable Work. Multilaterales Netzwerktreffen "Green Jobs", MA27
2011
Re.source 2011 St. Gallen - Podiumsdisskusionteilnahme
2011
ISEE Conference 2011 - Vortrag
2011
Haus-Wirtschaf(f)t-Zukunft - Hauswirtschaftskongress, Hochschule f. Agrar- u. Umweltpädagogik - Vortrag
2011
Grüne Sommerakademie
2011
Green Controversies Veranstaltungsreihe
2011
Fachkongress "Ökonomie der Nachhaltigkeit". FH Jena - Vortrag
2011
Ecological Macroeconomics Workshop III
2011
Aktuelle Entwicklungen aus Sicht der Wirtschaftswissenschaften - Teilnahme Dialogrunde
2011
AIEP 40th-Anniversary Conference
2011
"Ecological Economics auf der WU" - Studentenvertretung VWL - Vortrag
2010
Zukunftsfeld Green Jobs - ÖH WU Podiumsdiskussion - Statements
2010
Workshop Ecological Macroeconomics II
2010
Workshop der Austrian Development Agency zu "Armut und Umwelt"
2010
Wie sicher ist die Rohstoffversorgung für die Energietechnologien der Zukunft? ÖGUT Podiumsdiskussion
2010
Wachstum-im-Wandel Konferenz. Lebensministerium.
2010
vent Umwelt & Lebensraum – Biologische Vielfalt: Weniger oder mehr
2010
Sustainable Consumption IV. RespACT.
2010
Strukturprobleme zukunftsfähiger Ökonomik. ESD Diskursforum - Vortrag
2010
Strukturprobleme zukunftsfähiger Ökonomik. ESD Diskursforum - Vortrag
2010
Round-Table "Grenzen Erneuerbarer Energie"
2010
Ressourcenverbrauch u. Wirtschaftswachstum. Veranstaltungsreihe Uni Klagenfurt - Vortrag
2010
RELU Scale Workshop
2010
Ökonomische Bewertung von Ökosystemleistungen: Chance für die Umwelt, Chance für die Landwirtschaft? Umweltbundesamt, Ökosoziales Forum, Umweltdachverband, Netzwerk Land und Lebensministerium - Vortrag
2010
OECD round table on green growth
2010
Konferenz PAECH. Vienna
2010
Konferenz "WIR DENKEN UM - WIRtschaft DENKEN UMwelt". Ökobüro - Key Note Speach
2010
Klimawandel u. Verteilung. WU Podiumsdiskussion
2010
ISEE Conference 2010
2010
Ester Boserup Konferenz
2010
ESRC Seminar Participation - Power and Sustainable Energy Futures
2010
Die Zukunft der Erneuerbaren Energie. BMLFUW Podiumsdiskussion
2010
Bewerten der Maßnahmen - ausreichend? - Umwelt u. Bauen Symposium Wien - Vortrag
2010
Behavioural foundations of socio-technical transitions. ÖAW-ITA Vortrag - Vortrag
2010
All over the World Agriculture and Food Industry Must Become Sustainable. Firenze. - Vortrag
2009
Towards an Ecological Macroeconomics - Workshop
2009
Causes and Consequences of the Financial Crisis, Research Institute for European Affairs and ECSA Austria
Other scientific activities
2016
Parlamentarische Enquete ¿Was kommt nach Paris? ¿ Diskussion zur Umsetzung des Klimavertrags von Paris in Österreich¿ - Teilnahme als Expertin
Projects
2019

2018

2017

2016

2014

2013

2012

2011

2010

2008

2007

2006

2005

1999

1998