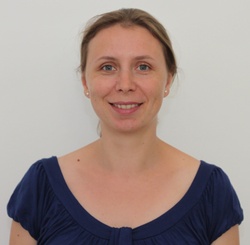 Reka Marta Sabou
Univ.Prof. PhD.
Reka Marta
Sabou
Telephone:

Email:
Contact information and photo taken from and editable at WU Directory.
Affiliation
CV
since 2022
Univ.Prof. WU Vienna
since 2020
FWF Elise Richter Fellow, Vienna University of Technology

2019

-

2022

Key Expert in Semantic Technologies, Siemens Corporate Technology, Vienna

2014

-

2019

Senior Post-doctoral Researcher, Vienna University of Technology

2010

-

2014

Post-doctoral Researcher / Assistant Professor, MODUL University Vienna

2005

-

2010

Research Fellow, The Open University, UK
Researcher Identifier
No researcher identifier found.
Awards and Honors
2019

FWF Elise Richter Grant for outstanding female researchers

2018

SoBigData Award for Research Visit at CNR Pisa

2013

Wirtschaftskammerpreis

2012

Linked Data Cup, i-KNOW'12

2011

Employee Sustainability Award, MODUL University Vienna

2009

Best paper award, ASWC'09

2006

IEEE Intelligent Systems "AI's Ten to Watch" Award

2004

Best group-project award at the 1st European Semantic Web Summer School
KnowledgeWeb T-REX grant
Classifications
Expertise
Activities
Reviewer for scientific organization
2019
Free University of Bozen-Bolzano, Italy - Research project proposal evaluator for the internal funding scheme of the university
2019
European Commission (EC) - Research project reviewer for H2020-FETOPEN-2014-2015-RIA-665347-Phoenix project

2019

-

2022

European Commission (EC) - research project reviewer for H2020-820805 Sphere project
2018
Jönköping University, Sweden - Research project proposal evaluator for the SPARK Research Funding Program
2018
Flanders Innovation & Entrepreneurship - Research project proposal evaluator
2017
European Commission (EC) - Research project proposal evaluator for the Research Executive Agency (REA) REA-C-04
2017
Aix-Marseille Université foundation A*MIDEX - Research project proposal evaluator

2016

-

2017

European Commission (EC) - Research project reviewer for RTD-D-05, project STREAMER
2014
Czech Science Foundation - Research project evaluator
2012
Netherlands Organisation for Scientific Re-search (NWO) - Research project evaluator
2008
Austrian Research Promotion Agency (FFG) - Research project evaluator
Member of the editorial board
2015
Semantic Web Journal (SWJ) - Editorial Board member
2015
Semantic Web Journal (SWJ) - Guest Editor, Special Issue on Human Computation and Crowdsourcing in the Context of the Semantic Web
2015
Human Computation - Editorial Board member

2006

-

2020

Journal of Data Semantics (JoDS) - Editorial Board member
Reviewer for a scientific journal
None
World Wide Web Journal - Reviewer
None
Semantic Web Journal - Reviewer
None
oftware: Practice and Experience Journal - Reviewer
None
Language Re-sources and Evaluation Journal - Reviewer
None
Journal of Web Semantics - Reviewer
None
Journal of Data Semantics - Reviewer
None
Journal of Data and Knowledge Engineering, - Reviewer
None
International Journal of Human-Computer Studies - Reviewer
None
Applied Ontology - Reviewer
Invitation to Research Seminar
2021
University of Mannheim - Invited Talk, Research Seminar, Verifying Conceptual Domain Models with Human Computation
2021
Laboratoire GERiiCO of University of Lille, France - Invited Talk, Seminar on Web of Data and Semantic Enrichment, Web-scale Data Integration for Creating Cyber-physical Social Systems
2018
The International Semantic Web Research School (ISWS) - Invited talk
2018
Dagstuhl seminar on Knowledge Graphs - Invited talk, Human and Social Factors in Knowledge Graphs
Reviewer for a series
2013
Springer book proposal - Reviewer
2008
Springer book proposal - Reviewer
Reviewer for an international conference
None
World Wide Web Conference (WWW) - Reviewer
None
ISWC - Reviewer
None
HyperText - Reviewer
None
ESWC - Reviewer
None
EKAW - Reviewer
None
ECAI - Reviewer
None
ASWC - Reviewer
None
AAAI - Reviewer
Organization scientific meeting (Conference etc.)
2022
International Sem. Web Conference (ISWC, A+2) - Workshop and Tutorial co-Chair
2021
Extended Sem. Web Conference (ESWC, A) - Knowledge Graph Track co-Chair
2018
International Semantic Web Conference (ISWC, A+) - In-Use Track co-Chair
2016
World Wide Web Conference (WWW, A++) - Web Science Track co-Chair
2016
International Semantic Web Conference (ISWC, A+) - Resources Track co-Chair
2015
Extended Semantic Web Conference (ESWC, A) - Program co-Chair
2014
International Semantic Web Conference (ISWC, A+) - Senior PC Member
2013
Interrnational Sem. Web Conference (ISWC, A+) - Workshop&Tutoial co-chair
2013
I-SEMANTICS (B) - Research Track co-chair
2013
Extended Sem. Web Conf. (ESWC, A) - Social Web&Web Science Track co-chair
2011
International Sem. Web Conference (ISWC, A+) - Poster&Demo Track co-chair
2009
International Semantic Web Conference (ISWC, A+) - Tutorial co-chair
2009
European Semantic Web Conference (ESWC, A) - PhD Symposium co-chair
Position in administration
2018
Technische Universität Wien - Scientific Staff Council (SSC)

2010

-

2014

MODUL University Vienna - Extended University Board member

2010

-

2014

MODUL University Vienna - Academic Mentor Program member

2010

-

2014

MODUL University Vienna - , Sustainability Committee member
Supervisor dissertation
2020
Vienna University of Technology - Peb Aryan Ruswono: Explainable Cyber-physical Systems
2020
Vienna University of Technology - Laura Waltersdorfer: Semantics-enabled Auditability of Hybrid AI Systems

2014

-

2018

Vienna University of Technology - Fajar Ekaputra: Ontology-Based Data Integration and Knowledge Change Management in Multi-Disciplinary Engineering Environments

2007

-

2011

The Open University - Fouad Zablith: Re-use based ontology evolution

2006

-

2010

The Open University - Sofia Angeletou: Semantic Enrichment of Folksonomy Structures

2005

-

2011

The Open University - Vanessa Lopez: Large-scale and cross-ontology question answering
Attendance scientific meeting (Conference etc.)
None
Dagstuhl seminar on Crowdsourcing and the Semantic Web - Invited talk, Towards Hybrid-genre and Embedded Crowdsourcing
2021
Austrian Computer Science Conference - Invited Talk, Human-centric Evaluation of Semantic Resources
2020
Semantic Media Wiki (SMW) Conference - Panelist on Knowledge Graph research and the role of Semantic Media Wiki
2020
First Data Sharing Winter School, TU Dortmund, Institut Mines-Telecom, International Data Spa - Invited Talk, Data sharing during the multi-disciplinary engineering of Smart Factories
2017
Software Quality Days (SWQD) - Research Track Keynote, Human Computation and Crowdsourcing for Software Engineering
2016
Summer School on Ontology Engineering and the Semantic Web (SSSW'15) - Invited talk, Semantic Web for Advanced Engineering
2016
International Conference on Research and Practical Issues of Enterprise Information Systems (CONFENIS) - Conference Keynote, Human Computation and Crowdsourcing for Information Systems
2015
Linked Data in Industry4.0 Workshop, Semantic conference - Invited talk, Linked data in Automation Systems Engineering
Other scientific activities
2019
Board of the City of Vienna - Invited talk, CitySPIN project - Cyber-physical social systems in the city of Vienna
Projects
2021

2020

2019

2017

2015

2013

2012

2011

2009