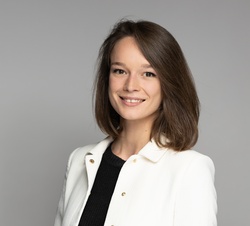 Anja Grüll
Anja
Grüll
MSc (WU)
Telephone:

Email:

About me:

Anja Grüll has specialized in research and teaching on circular economy. As part of her dissertation, she analyzes the cooperation relationships between universities, companies and NGOs, which have emerged from EU funding programs. At the Vienna University of Economics and Business, she is active in the course "Sustainable Economics II" and supervises bachelor theses. As a scientific research assistant, she co-develop workshop moderation tools for blind and visually impaired people for the EU project www.LIVING-INNOVATION.net. She has further created the graphic design of 10 high-end videos for the project. Anja is a member of the "Academy of Management" (AOM) and is particularly active in the "Organizations and the Natural Environment" (ONE) division. Anja completed her bachelor's degree in socio-economics at WU and subsequently passed her master's degree in management with distinction. Anja was on two semesters abroad, one at the Guangha School of Management in Beijing, China, where she was awarded the "Certificate of Excellence in Innovation and Strategy" and the other one at Tilburg University in the Netherlands.
Contact information and photo taken from and editable at WU Directory.
Affiliation
CV
No curriculum entries found.
Researcher Identifier
No researcher identifier found.
Awards and Honors
Classifications
No classifications found.
Expertise