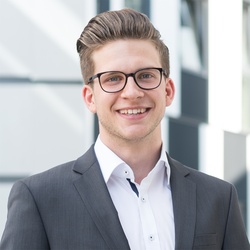 Lukas Weissinger
Lukas
Weissinger
BA
Telephone:

Email:

About me:

Lukas Weissinger has been a junior researcher at WU's Competence Center for Nonprofit Organisations and Social Entrepreneurship since October 2019. He mostly works on the scientific support of the Social Impact Award. Lukas Weissinger studies Socioeconomics at WU Vienna and holds a Bachelor's degree in Political Science from the University of Vienna. His main academic focus has been on global inequality and North-South cooperation, whereby his consistent private commitment in the field of social entrepreneurship has been vital for his Master's studies.
Contact information and photo taken from and editable at WU Directory.
CV
No curriculum entries found.
Researcher Identifier
No researcher identifier found.
Awards and Honors
Classifications
No classifications found.
Expertise
Publications
Research report, expert opinion
| | | | |
| --- | --- | --- | --- |
| 2020 | Millner, Reinhard, Mittelberger, Camilla, Mehrwald, Martin, Weissinger, Lukas, Vandor, Peter, Meyer, Michael. 2020. Auswirkungen der COVID-19 Pandemie auf die soziale Infrastruktur in Österreich. Zur Situation von Sozialorganisationen im Nonprofit Sektor. Wien:WU Wien. | (Details) | |
Media report
| | | | |
| --- | --- | --- | --- |
| 2021 | Mehrwald, Martin, Üstün, Susan, Weissinger, Lukas. 2021. Ein Jahr Inside Impact - wir blicken nach vorne und zurück. | (Details) | |
| 2020 | Weissinger, Lukas, Beßler, Stefanie, Mehrwald, Martin. 2020. 2020 beim Social Impact Award Österreich. | (Details) | |
| | Mehrwald, Martin, Weissinger, Lukas, Vandor, Peter. 2020. Der Social Impact Award - 11 Jahre Unterstützung für junge Changemaker*innen. | (Details) | |
| | Weissinger, Lukas, Swaton, Agnes, Ikea, Ifeoma, Klatt, Kassandra, Mehrwald, Martin, Üstün, Susan. 2020. Fragaria und der Social Impact Award Österreich. | (Details) | |
| | Weissinger, Lukas, Brandl, Alexandra, Buchmayr, Jakob, Mehrwald, Martin. 2020. Herobox und der Social Impact Award Österreich. | (Details) | |
| | Weissinger, Lukas, Endrich, Claudia, Pacher, Thomas, Mehrwald, Martin. 2020. re.paro und der Social Impact Award Österreich. | (Details) | |
| | Weissinger, Lukas, Greil, Anna, Huber, Bruno, Mehrwald, Martin. 2020. Uptraded und der Social Impact Award Österreich. | (Details) | |
| | Weissinger, Lukas, Lohmann, Laura, Fleischmann, Charlotte, Mehrwald, Martin. 2020. Urbodrom und der Social Impact Award Österreich. | (Details) | |
Unpublished lecture
| | | | |
| --- | --- | --- | --- |
| 2020 | Vandor, Peter, Weissinger, Lukas. 2020. Impact measurement at Social Impact Award: an overview of tools, methodologies and practices. Incubators4Change Workshop, Wien, 08.10.20 | (Details) | |
Projects
2020

Social Enterprises as a Catalyst for Integration - Innovative Approaches for the integration of Refugees into the Labour Market (2020-2021) (Details)