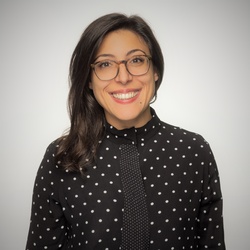 Sara Matrisciano-Mayerhofer
M.A.Dr.phil.
Sara
Matrisciano-Mayerhofer
MA
Telephone:

Email:

About me:

Bis 2012 Magisterstudium der Romanistik (italienische und französische Sprachwissenschaft) und der Europäischen Kunstgeschichte an der Ruprecht-Karls-Universität Heidelberg (Abschluss mit Auszeichnung) und Internationales Masterstudium der Kunstgeschichte und Museologie (IMKM - Deutsch-Französische Hochschule) an der École du Louvre Paris und der Universität Heidelberg. Danach JOPP-Förderprogramm für quereinsteigende Nachwuchskräfte bei der Lufthansa Technik AG in Hamburg (Qualitätsmanagement), Lehrbeauftragte am Romanischen Seminar sowie Projektmitarbeiterin am Institut für Europäische Kunstgeschichte der Universität Heidelberg. Im Juni 2018 Promotion (summa cum laude) in Romanischer Philologie an der Ruprecht-Karls-Universität Heidelberg. Seit September 2018 Universitätsassistentin am Institut für Romanische Sprachen der WU Wien. Habilitationsprojekt: "Interne Unternehmenskommunikation am Beispiel von Mitarbeiterzeitungen in Frankreich. Eine diachrone Textsortenanalyse" (Arbeitstitel). Studien- und Forschungsaufenthalte in Paris (Frankreich), Neapel (Italien), Spoleto (Italien), Bellinzona (Schweiz) und London (UK). Forschungsschwerpunkte sind die (perzeptive) Dialektologie sowie die Variations-, Sozio- und Ethnolinguistik, die Diskursanalyse und zuletzt die Morphologie, die Wirtschaftsonomastik sowie Marketingstrategien aus (cross-)sprachlicher und interkultureller Perspektive. Zur Zeit Leitung des Drittmittelprojektes "SmartSpeaking City – alles nur bla bla? Eine Analyse der sprachlich-semiotischen Konstruktion von _smartness_ in der Stadt und im Stadtmarketing aus crossnationaler Perspektive" (Projektpartnerschaft mit der Università Federico II in Neapel, Dr. Margherita di Salvo)
Contact information and photo taken from and editable at WU Directory.
Affiliation
CV
since 2018
Postdoctoral researcher, Institute for Romance Languages, Vienna University of Economics and Business

2013

-

2018

PhD, Romance Philology, Heidelberg University

2012

-

2018

Lecturer, Department of Romance Studies, Heidelberg University

2007

-

2012

International Master, History of Art and Museology, École du Louvre Paris/Heidelberg University

2004

-

2012

Magister, Romance Languages (Italian and French Linguistics) and History of European Art, Heidelberg University
Researcher Identifier
Awards and Honors
Classifications
Expertise
(Perceptual) Variational linguistics / Sociolinguistics
(Perceptual) Dialectology
Discourse analysis
Ethnolinguistics
Morphology
Onomastics
Wirtschaftslinguistik
Activities
Membership in scientific association
since 2020
Società internazionale di Linguistica e Filologia italiana
since 2020
Frankoromanistenverband
since 2020
Associazione Italiana di Linguistica Applicata (AItLA)
since 2016
Societas Linguistica Europaea (SLE)
since 2016
International Pragmatics Association (IPrA)
since 2016
Deutscher Italianistenverband