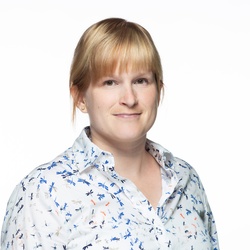 Mirja Kemppi-Pfleger
Mirja
Kemppi-Pfleger
M.Sc.M.A.
Telephone:

Email:

About me:

Teaching and Research Associate at the Institute for English Business Communication. Research focus on corporate climate change communication and sustainability reporting.
Contact information and photo taken from and editable at WU Directory.
Affiliation
CV
No curriculum entries found.
Researcher Identifier
No researcher identifier found.
Awards and Honors
Classifications
No classifications found.
Expertise
Publications
Journal article
| | | | |
| --- | --- | --- | --- |
| 2010 | Kemppi, Mirja, Sinclair, Victoria A. 2010. Structure of a Warm Front: Helsinki Testbed Observations and Model Simulation. Monthly Weather Review, 139, (9), 2876-2900. | (Details) | |
Paper presented at an academic conference or symposium
| | | | |
| --- | --- | --- | --- |
| 2021 | Kemppi-Pfleger, Mirja. 2021. (In)Action? Climate change discourse of the European "dirty" industries. ABC Regional Conference: Europe, Africa and Middle East, Vienna University of Economics and Business, Vienna (Online), Austria, 26.08.-28.08. | (Details) | |
| | Kemppi-Pfleger, Mirja. 2021. (In)Action? Climate change discourse of the European "dirty" industries. CL2021 Internation Conference of Corpus Linguistics, University of Limerick (Online), Ireland, 13.07.-16.07. | (Details) | |
| 2020 | Kemppi-Pfleger, Mirja. 2020. Climate change communication of the European automotive industry. Intercultural Aspects in CSR Communication, Vienna University of Economics and Business, Vienna (Online), Austria, 20.11.-21.11. | (Details) | |