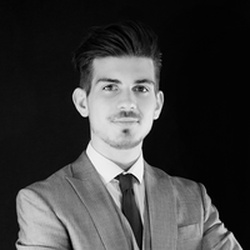 Alexander Staub
Alexander
Staub
M.Sc.
Telephone:

Email:
Contact information and photo taken from and editable at WU Directory.
Affiliation
CV
since 2018
Research and Teaching assistant Praedoc, WU

2017

-

2018

Strategy Analyst at Accenture Strategy, Austria

2016

-

2017

Ecommerce Country Manager DACH Area, The HUT Group, UK
2015
Internship Brand Management, Henkel, Austria
2014
Internship Market Research and Management, Pollo OOO, Russia
Researcher Identifier
No researcher identifier found.
Awards and Honors
2020

Preis für Innovative Lehre - Kurs: "Scenario Planning, Anticipate Disruption"
Classifications
No classifications found.
Expertise
Publications
Paper presented at an academic conference or symposium
| | | | |
| --- | --- | --- | --- |
| 2021 | Staub, Alexander, Lettl, Christopher, Grad, Tom. 2021. Introducing Performance Contingent Symbolic Awards Into Online Communities: a natural experiment. Collective Intelligence, Copenhagen, Dänemark, 29.06-30.06. | (Details) | |
| | Staub, Alexander, Grad, Tom, Lettl, Christopher. 2021. Symbolic awards in online communities. DRUID 2021, Kopenhagen, Dänemark, 18.10 - 20.10. | (Details) | |
| | Staub, Alexander, Lettl, Christopher, Grad, Tom. 2021. The impact of symbolic award introductions on contribution behavior in online communities: A natural experiment. EGOS, Amsterdam, Niederlande, 08.07-10.07. | (Details) | |
| | Staub, Alexander, Grad, Tom, Lettl, Christopher. 2021. Unintended Consequences of Performance Contingent Symbolic Awards. 18th Open and User Innovation Conference, Aachen, Deutschland, 21.06-22.06. | (Details) | |
| 2019 | Staub, Alexander, Lettl, Christopher, Grad, Tom. 2019. Level Up: How non-monetary incentives affect online community members' contributions. 17th Open and User Innovation Conference, Utrecht, Niederlande, 08.07-10.07. | (Details) | |
Working/discussion paper, preprint
| | | | |
| --- | --- | --- | --- |
| 2021 | Staub, Alexander, Lettl, Christopher, Grad, Tom. 2021. Symbolic awards in online communities: evidence from a natural experiment. | (Details) | |
Miscellaneous
| | | | |
| --- | --- | --- | --- |
| 2019 | Staub, Alexander, Lettl, Christopher, Grad, Tom. 2019. Level Up: How symbolic incentives affect online community members' contributions. STR Doctoral Consortium at AOM Annual Conference. | (Details) | |
| | Staub, Alexander, Lettl, Christopher, Grad, Tom. 2019. Symbolic incentives and member behavior in online communities. JPIM/PDMA Doctoral Consortium 2019. | (Details) | |