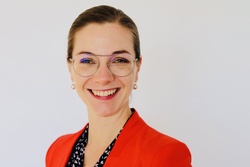 Miriam Kullmann-Klocke
Dr.
Miriam
Kullmann-Klocke
LL.M.
Telephone:

Email:
Contact information and photo taken from and editable at WU Directory.
CV
since 2020
Visiting Scholar Harvard University Weatherhead Centre for International Affairs
since 2018
Guest researcher Business and Law Research Center (Radboud University Nijmegen)
since 2018
Guest researcher Department of Labour and Social Security Law(Leiden University)
since 2018
Assistant Professor WU Wien (post-doc non-tenure track)

2015

-

2017

Assistant Professor (Maastricht University)
2015
Postdoc Elder Law Research Project (Lund University)

2015

-

2017

Researcher and Lecturer Department Labour and Social Security Law (Leiden University)

2010

-

2014

PhD Candidate (Radboud University Nijmegen)

2009

-

2015

Researcher European Labour Law Network (Leiden University/Frankfurt University)
Researcher Identifier
Awards and Honors
2017

Levenbachinstituut Best PhD Thesis Award for the Thesis on "Enforcement of Labour Law in Cross-Border Situations: A Legal Study of the EU's Influence on the Dutch, German, and Swedish Enforcement Systems"
Classifications
Expertise
Age Discrimination
Labour Law
Digitalisation and the Impact on Labour and Social Security Law
Discrimination through Algorithms
Enforcement of Labour Law
Impact of EU Law on National Labour Law
European Labour Law
Flexibilisation of Employment Relations
Activities
Membership in scientific association
since 2019
Gesellschaft Junger Zivilrechtswissenschaftler e.V.
since 2018
European Institute of Social Security (EISS)
since 2010
Vereniging voor Arbeidsrecht
Member of the editorial board
since 2020
European Labour Law Journal (ELLJ) - European Editor
since 2019
Italian Labour Law E-Journal (ILLeJ)
Invitation to Research Seminar
2018
WTFLabourLaw (Working on The Future of Labour Law) 1st Progressive Labour Law Scholars Summer Camp - Member Scientific Committee and Responsible, with Dr. Ania Zbyszewska (Warwick University) for the workshop on "Labour Law and Environment"
2018
University of Amsterdam - Jean Monnet Summer Course "EU Labour Law Perspectives: Enhancing the EU Social Pillar",Presentation on 'Non-discrimination of part-time and fixed-term workers in recent EU case law: leave it, love it, change it'
2018
Linz Institute of Technology - Presentation on 'Platform Work, Algorithmic Decision-Making, and the Challenges in Proving Algorithmic Discrimination'
2018
Friedrich Ebert Stiftung - Presentation on 'Platform Work, Algorithmic Pay Differences, and EU Gender Equality Law'
2018
ERA Trier - ERA Summer Course European Labour Law 2018, Presentation on 'Posting of workers'
2018
Council of Europe, European Committee of Social Rights - Presentation on 'Current developments and challenges related to working in the digital economy: which role for the European Social Charter?'
2017
EUI Florence - Speaker on 'The role of collective actors in the enforcement of the rights of
2017
ERA Trier - Speaker on 'Discrimination in the on-demand economy'
Organisation of Research Seminar
2015
Maastricht University - Organiser, together with Dr. Alysia Blackham (Melbourne University, AUS) and Dr. Ania Zbyszewska (Warwick University, UK), International Workshop 'Theorising Labour Law in a Changing World: New Perspectives
Research Cooperation

2017

-

2018

Warwick University, School of Law (coordinated by Dr. Ania Zbyszewska) - Project Member 'Labour Law for a Warming World?: Exploring the intersections between work regulation, ecology, and sustainability' (special issue published in 2018 in Comparative Labor Law & Policy Journal)

2015

-

2016

Oxford University (coordinated by Dr. Jeremias Prassl) - Project Member 'Shaping Future Directions in EU Labour Law'
Research and Teaching Stay
since 2020
Harvard University (Weatherhead Center for International Affairs) - Schumpeter Professoren (research fellows)
2013
Lund University - Guest researcher
2013
Lund University - Guest Researcher
2012
Institute for Labour Law and Industrial Relations in the European Union, Trier - Gues
2012
Institute for Labour Law and Industrial Relations in the European Union, Trier - Guest researcher
Attendance scientific meeting (Conference etc.)
2018
Law and Society Association - Presentation on 'Work-related securites: A thought experiment'
2018
ISLSSL - Presentation on 'The Right to Disconnect'
2017
University College Dublin, Society of Legal Scholars Conference, 5-8 September 2017 - Speaker on 'The transformation of work and the role of labour rights in the
2017
3rd Labour Law Research Network Conference in Toronto (CAN), 25-27 June 2017 - Speaker on 'Promoting Social and Environmental Sustainability: What Role for Public Procurement?'
2017
3rd Labour Law Research Network Conference in Toronto (CAN), 25-27 June 2017 - Speaker on 'Virtual Work and Gender: Towards an Integrative European Approach'
2017
24th International Conference of Europeanists on 'Sustainability and Transformation' - Speaker on 'Promoting Social and Environmental Sustainability: What Role for Public Procurement?'
Other scientific activities
2018
Stibbe - Speaker on 'Digitale arbeidsmarkt en discriminerende algoritmes'
2017
Confederation of Norwegian Enterprise (NKO) - Speaker on 'Current developments on the Posting of Workers Directive'