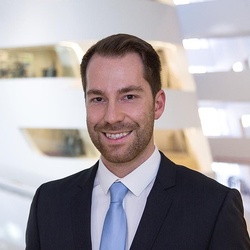 Maximilian Weis
Maximilian
Weis
MSc.
Telephone:

Email:
Contact information and photo taken from and editable at WU Directory.
Affiliation
CV
since 2017
Research and Teaching Associate
Researcher Identifier
No researcher identifier found.
Awards and Honors
2019

Leistungsstipendium der Wirtschaftsuniversität Wien

2018

Förderungsstipendium der Wirtschaftsuniversität Wien
Leistungsstipendium der Wirtschaftuniversität Wien

2013-2015

Deutschland-Stipendium
Classifications
No classifications found.
Expertise
Activities
Membership in scientific association
2019
European Group for Organizational Studies (EGOS) - Member
since 2018
Verband der Hochschullehrer für Betriebswirtschaft e.V. (VHB) - Member
since 2018
Strategic Management Society (SMS) - Member
2018
European Academy of Management (EURAM) - Member
since 2018
Academy of Management (AOM) - Member
Reviewer for an international conference
2019
SMS 39th Annual Conference - Reviewer for Conference Papers
2018
SMS 38th Annual Conference - Reviewer for Conference Papers
2018
EURAM 18th Conference - Reviewer for conference papers
Attendance scientific meeting (Conference etc.)
2018
EURAM 18th Conference - Paper Presentation
2018
AOM 78th Annual Meeting - New Doctoral Student Consortium
2019
SMS Specialized Conference Frankfurt - Paper Presentation
2019
SMS 39th Annual Conference - Paper Presentation
2019
EIASM 10th Workshop on Top Management Teams and Business Strategy Research - Paper Presentation
2019
35th EGOS Colloquium - Paper Presentation
2018
SMS 38th Annual Conference - Paper Presentation
Publications
Paper presented at an academic conference or symposium
| | | | |
| --- | --- | --- | --- |
| 2021 | Weis, Maximilian, Klarner, Patricia. 2021. CEO Succession, CEO Temporal Depth, and Top Management Team Change. Academy of Management Annual Conference, Vancouver (virtual), Kanada, 29.07.-04.08.2021. | (Details) | |
| | Weis, Maximilian, Klarner, Patricia. 2021. CEO Succession, CEO Temporal Depth, and Top Management Team Change. Strategic Management Society 41st Annual Conference, Toronto (virtual), Kanada, 18.09-21.09.2021. | (Details) | |
| | Weis, Maximilian, Klarner, Patricia. 2021. CEO Temporal Orientation and Organizational Resilience. Strategic Management Society 41st Annual Conference, Toronto (virtual), Kanada, 18.09-21.09.2021. | (Details) | |
| 2020 | Weis, Maximilian, Klarner, Patricia. 2020. From Taking to Shaping - Why Temporal Tensions Matter for Organizations. Academy of Management Annual Conference, Vancouver (virtual), Kanada, 07.08-11.08. | (Details) | |
| | Weis, Maximilian, Klarner, Patricia. 2020. New CEOs' Temporal Orientation, TMT Change, and Strategic Change. Strategic Management Society 40th Annual Conference, London (virtual), Großbritannien, 26.10-30.10. | (Details) | |
| | Weis, Maximilian, Klarner, Patricia. 2020. To Take or to Shape: A Multi-Level Framework of Temporal Tensions. Strategic Management Society 40th Annual Conference, London (virtual), Großbritannien, 26.10-30.10. | (Details) | |
| 2019 | Weis, Maximilian, Klarner, Patricia. 2019. Go short, go long – all wrong? Differences in executive temporal depth and its impact on firm performance. Strategic Management Society Annual Meeting, Minneapolis, Vereinigte Staaten/USA, 19.10.-22.10. | (Details) | |
| | Weis, Maximilian, Klarner, Patricia. 2019. Go short, go long – all wrong? Differences in executive temporal depth and its impact on firm performance. EIASM Workshop on Top Management Teams and Business Strategy Research, Passau, Deutschland, 06.06.-07.06. | (Details) | |
| | Weis, Maximilian, Klarner, Patricia. 2019. How to reconcile different organizational time horizons – Review and future research suggestions on temporal tensions. EGOS Conference, Edinburgh, Großbritannien, 03.07.-06.07. | (Details) | |
| | Weis, Maximilian, Klarner, Patricia. 2019. Temporal Tensions in Strategic Decision-Making. Strategic Management Society – Special Conference On Uncertainty, Frankfurt, Deutschland, 13.06.-15.06. | (Details) | |
| | Weis, Maximilian, Klarner, Patricia. 2019. Temporal Tensions: Reconciling the Short and the Long Term. Academy Of Management Conference, Boston, Vereinigte Staaten/USA, 08.08.-13.08. | (Details) | |
| 2018 | Weis, Maximilian, Klarner, Patricia. 2018. Intertemporal Tensions - Review and Future Research Suggestions. European Academy of Management 18th Conference, Reykjavik, Island, 19.-22.06.2018. | (Details) | |
| | Weis, Maximilian, Klarner, Patricia. 2018. Temporal Tensions: How can organizations reconcile different time horizons? . 38th Annual Conference of the Strategic Management Society, Paris, Frankreich, 22.09.-25.09. | (Details) | |
Master thesis
| | | | |
| --- | --- | --- | --- |
| 2017 | Weis, Maximilian. 2017. Business Models and Business Model Innovation in Social Entrepreneurship. Masterarbeit, Lund School of Economics and Management, Lund Unviersity. | (Details) | |
| 2016 | Weis, Maximilian. 2016. The Economic Effect of Jena University on the Regional Economy – Knowledge Transfer and Knowledge Capital Reassessed. Masterarbeit, Lund School of Economics and Management, Lund Unviersity. | (Details) | |
Unpublished lecture
| | | | |
| --- | --- | --- | --- |
| 2020 | Weis, Maximilian, Klarner, Patricia. 2020. Perceive, Process, Perform – Temporal Tensions in Decision-Makers' Cognition. Vortrag auf Einladung des Department of Organization Studies der Universität Tilburg, Tilburg (virtual), 03.11.20 | (Details) | |