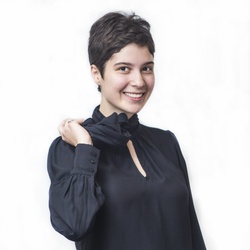 Evgeniia Filippova-Karlusch
Dr.
Evgeniia
Filippova-Karlusch
Email:

About me:

Evgeniia Filippova is a senior scientist prae-doc at the Interdisciplinary Research Institute for Cryptoeconomics at WU Vienna. In her role she works on her dissertation, coordinates research activities in the field of cryptoeconomics, delivers interdisciplinary lecture "FinTech & Blockchain Lab", and is involved in various research projects. Within her dissertation she investigates Blockchain as a General Purpose Technology and compares its evolutionary path to other disruptive technologies. Prior to that, Evgeniia Filippova was a researcher within Marie-Curie Project STREAM, Smart Sensor Technologies and Training for Radiation Enhanced Applications and Measurements. Within this project, she was responsible for analyzing STREAM technologies with regards to their potential commercial applications and supporting scientists from CERN to transfer their research results into successful business models. Ms. Filippova holds a Master Degree in Economics from Friedrich-Schiller University of Jena and a Degree in Finance from St. Petersburg University for Economics and Finance, and fluently speaks four languages.
Contact information and photo taken from and editable at WU Directory.
Affiliation
CV
since 2018
Senior scientist prae-doc, Research Institute for Cryptoeconomics, WU

2016

-

2018

Early-stage researcher ITN Marie-Curie, CERN

2016

-

2018

Researcher and Lecturer prae-doc, Institute for Entrepreneurship and Innovation WU

2015

-

2016

Research Assistant, Friedrich Schiller University Jena

2014

-

2016

Research Assistant, University of Warwick
Researcher Identifier
No researcher identifier found.
Awards and Honors
2016-2018

Erasmus+ Scholarship (Marie Curie ITN)

2014-2016

DAAD full scholarship for Master Studies in Germany

2013

Award for the best diploma thesis, faculty of economics and finance, St.Petersburg University of Economics

2010

2. place, Athletics Youth Championship in St. Petersburg

2007-2008

Banca Instesa Sanpaolo scholarship for a scholastic year in Italy

2006

3. Place, International Youth Piano Competition
Classifications
5307 Business and management economics (Details)
5936 Research and innovation management (Details)
5946 Cooperation between science and economics (Details)
Expertise
Cryptoeconomics
English C1
German C1
Italian C1
STATA - proficient
Activities
Membership in scientific association
since 2018
Marie-Curie Alumni Association
Reviewer for a series
since 2018
Journal "Frontiers in Blockchain" - Curation of paper series "Blockchain & Sustainability"
Organization other meeting (Excursion etc.)
2017
WU Vienna - Organization of STREAM Summer School on Innovation Management
2017
CERN - Organization of Hackathon on Superconductivity
Research and Teaching Stay
2018
Kyoto Institute of Technology - Teaching at the Summer School on Entrepreneurship
Attendance scientific meeting (Conference etc.)
2017
European Meeting on Applied Evolutionary Economics 2017 - Paper presentation