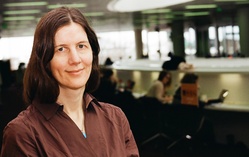 Sabine Frerichs
Univ.Prof. Dr.rer.pol.
Sabine
Frerichs
Telephone:

Email:
Contact information and photo taken from and editable at WU Directory.
Affiliation
CV
2018

-

2019

Fellow at the Käte Hamburger Center "Law as Culture", University of Bonn
since 2016
Full Professor of Economic Sociology, Vienna University of Business and Economics
2015
Visiting Lecturer at the Charles University Prague, Institute of Sociological Studies

2012

-

2016

Assistant Professor (tenure track) at the University of Helsinki, Faculty of Law
2012
Postdoctoral Fellow at the European University Institute Florence, Law Department
2011
Visiting researcher at the University of Cairo, Faculty of Economics and Political Science

2008

-

2012

Postdoctoral Researcher at the University of Helsinki, Centre of Excellence "Foundations of European Law and Polity"

2005

-

2008

Research Associate / Lecturer at the University of Bamberg, Chair of Sociology II; Co-ordinator of the Research Training School "Markets and Social Systems in Europe"
Researcher Identifier
Awards and Honors
2014

Habilitationspreis der Universität Bamberg, Hans-Löwel-Stiftung (postdoctoral dissertation award, University of Bamberg)

2011-2014

Postdoc-Stipendium der Finnischen Akademie (postdoctoral fellowship, Academy of Finland)

2009-2011

Postdoc-Stipendium der Universität Helsinki (postdoctoral fellowship, University of Helsinki)

2008

Dissertationspreis der Deutschen Gesellschaft für Soziologie (dissertation award, German Sociological Association)

2007

Dissertationspreis der Universität Bamberg, Universitätsbund Bamberg (dissertation award, University of Bamberg)

2002-2005

Promotionsstipendium im DFG-Graduiertenkolleg "Märkte und Sozialräume in Europa", Universität Bamberg (doctoral scholarship, University of Bamberg)
Classifications
Expertise
Macrosociology: transformation of welfare capitalism, European integration, globalisation and world society
Sociological theory: Classical and contemporary approaches; theory of action, institutions and society
Economic sociology of law: integration through law, moral economy of debt, constitution of market society
Activities
Position in jury, advisory board, curatorship
since 2018
ERC project "Work On Demand", University of Glasgow - Advisory Panel
Position in committee for appointments
2020
Position in internal committee for appointments

2020

-

2021

2019

-

2020

2019

-

2020

Position in internal habilitation committee
2020
2019
Reviewer for scientific organization
2021
2020

2019

-

2020

2018
Member of the editorial board
since 2016
Journal of Consumer Policy
Reviewer for a scientific journal
2021
2021
2021
2020
2020
2019
2019
2019
2019
2017
2017
2017
Other position in a scientific journal
2016
European Law Journal, Special Issue - Guest Editor
Invitation to Research Seminar
2019
Käte Hamburger Center "Law as Culture", University of Bonn
2018
Law and Justice Across Borders, University of Amsterdam
Reviewer for a series
2020
2018
Reviewer for an international conference
2020
Organization scientific meeting (Conference etc.)
2019
Institute for Sociology and Social Research, WU Vienna - 'Hardwired Sociality? How the New Behavioral Disciplines Change Our Understanding of Economic, Social, and Moral Action'
Position in administration

2020

-

2022

WU - Africa-Uninet Representative
Research and Teaching Stay

2018

-

2019

Käte Hamburger Center "Law as Culture", University of Bonn - Fellowship