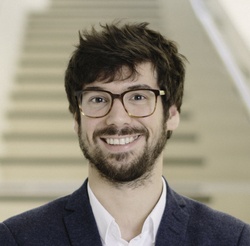 Baris Pascal Güntürkün
Assist.Prof. Dr.
Baris Pascal
Güntürkün
Telephone:

Email:

About me:

In general, my research interests are located at the intersection between consumer behavior and relationship management. I am particularly interested in how consumers establish relationships with businesses and how enabling customer participation in the creation of products and services affects the development of different types of customer-company relationships. In my recent work, I am also very interested in how we can motivate individuals and organizations to engage in prosocial behavior such as charitable giving, social sharing, and sustainability.
Contact information and photo taken from and editable at WU Directory.
CV
2020
Visiting Scholar, University of British Columbia (UBC), Sauder School of Business, Marketing & Behavioural Science Division
since 2016
Assistant Professor (tenure-track), Vienna University of Economics and Business (WU), Department of Marketing
2015
Dissertation (Dr. rer. oec.) with distinction (summa cum laude), Ruhr-University of Bochum (RUB)

2015

-

2016

Post-Doctoral Researcher, Ruhr-University of Bochum (RUB), Sales & Marketing Department

2010

-

2015

Research Assistant, Ruhr-University of Bochum (RUB), Sales & Marketing Department

2007

-

2010

Student Research Assistant, Ruhr-University of Bochum (RUB), Department of Marketing
Researcher Identifier
Awards and Honors
2016

Wissenschaftspreis Dissertation Award Finalist, for excellent scientific work with high relevance to Retail Management and Marketing, EHI Foundation and GS1 Germany

2015

Büropa Dissertation Award for Research in Retailing, Büropa-Foundation within the Association for the Promotion of Science and Humanities in Germany
Gebrüder-Deschauer Award for outstanding dissertations at the Faculty of Management & Economics, Society of the Supporters of the Ruhr-University of Bochum (GdF), Ruhr-University of Bochum
Paul H. Repplinger Dissertation Award for Research in Retail Management and Marketing, Society of Sponsors of the Institute for Empirical Economic Research at the University of Saarland

2014

Best in Conference Award, Winter Marketing Educators' Conference 2014, Orlando, FL, USA
Best in Track Award (Special Topics), American Marketing Association, Winter Marketing Educators' Conference 2014, Orlando, FL, USA

2010

Globalpark Diploma Thesis Award for Applied Online-Marketing Research, Globalpark AG, Mannheim
Classifications
Expertise
B2B Marketing
E-Commerce
Consumer Behavior
Customer Participation in Coproduction
Prosocial Consumer Behavior
Social Marketing & Donor Management
Corporate Social (Ir-)Responsibility
Activities
Reviewer for scientific organization
since 2021
Academy of Marketing Science - Reviewer
since 2018
Verband der Hochschullehrer für Betriebswirtschaft - Reviewer
since 2018
Österreichischer Austauschdienst - Reviewer
Membership in scientific association
since 2021
Verband der Hochschullehrer für Betriebswirtschaft e.V. - Membership
since 2020
The Association for Consumer Research - Membership
since 2018
European Marketing Academy (EMAC) - Member
since 2015
American Marketing Association - Membership
Reviewer for a scientific journal
since 2021
International Journal of Hospitality Management - Reviewer
since 2020
Journal of Service Research - Reviewer
since 2020
Journal of Media Economics - Reviewer
since 2017
Corporate Reputation Review - Reviewer
Invitation to Research Seminar
2021
Department of Analytics, Marketing & Operations, Imperial College London, Business School - Research Presentation
2018
Institute for Marketing, University of Hamburg - Research Presentation
Reviewer for an international conference
since 2018
European Marketing Academy (EMAC) - Reviewer
since 2016
American Marketing Association - Reviewer (Winter & Summer Academic Conference)
Academic advisor
since 2017
Ivey Business School, Western University - Selection of Exchange Students (WU->Ivey)
since 2017
Bocconi University - Selection of Exchange Students (WU->Bocconi)
Research and Teaching Stay
2020
UBC Sauder School of Business - Visiting Scholar
Attendance scientific meeting (Conference etc.)
2020
The Association for Consumer Research (ACR) Conference - Research Presentation
2019
European Conference on Donor Health and Management (ECDHM), Marketing Workshop - Participant
2019
AMA Winter Academic Conference - Research Presentation
2019
5th Annual Organizational Frontlines Research Symposium - Participant
2019
48th European Marketing Academy Annual Conference - Research Presentation
2018
SERVSIG Conference - Research Presentation
2018
Business & Society Seminar 2018 - Research Presentation
2018
47th European Marketing Academy Annual Conference - Research Presentation
2017
ANZMAC (Australian and New Zealand Marketing Academy) - Research Presentation
2017
4th International CSRCOM Conference - Research Presentation
2017
3rd Annual Organizational Frontlines Research Symposium - Research Presentation
2016
10th International Conference Corporate Identity / Associations Research Group - Research Presentation