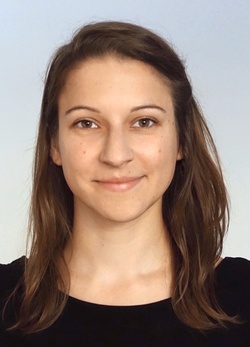 Kathrin Bednar
Kathrin
Bednar
MSc, MSc, BA
Telephone:

Email:

About me:

Kathrin Bednar works and teaches at the Institute for Information Systems and Society of the Vienna University of Economics and Business (WU Wien). She has an interdisciplinary background in psychology, philosophy and cognitive science and has been teaching classes on human-centered design and sustainable IT. Her general research interests focus on the impact of technology on our lives and psychological wellbeing. Currently, Kathrin is looking into different views of human nature and technology.
Contact information and photo taken from and editable at WU Directory.
Affiliation
CV
since 2017
Research and Teaching Associate (prae doc)
Researcher Identifier
No researcher identifier found.
Awards and Honors
2020-2021

DOC Fellowship (ÖAW / Austrian Academy of Sciences)
Classifications
Expertise
IT ethics
Human centered design
Cognitive science
Human nature and technology
Philosophy
Psychology
Values and technology design
Activities
Membership in scientific association
since 2018
International Federation for Information Processing (IFIP), Working Group 9.5 ("Our Digital Lives") - Secretary
Reviewer for a scientific journal
2019
Information Systems Journal (ISJ) - Reviewer
Reviewer for an international conference
2020
International Human Choice and Computers Conference (HCC) - Reviewer
2019
International Conference on Information Systems (ICIS) - Reviewer
2019
Ethicomp Conference - Reviewer
2018
Multikonferenz Wirtschaftsinformatik (MKWI) - Reviewer
2016
International Conference on Information Systems (ICIS) - Reviewer
Attendance scientific meeting (Conference etc.)
2018
Human Choice and Computers Conference (HCC13): "This changes everything"
2018
Ethicomp 2018: "Creating, changing, and coalescing ways of life with technologies"
2017
CEPE/Ethicomp 2017: "Values in emerging science and technology"
2016
Lab Launch - The Privacy & Sustainable Computing Lab
Other scientific activities
since 2019
International VSD Community Seminar - Member
since 2016
Privacy & Sustainable Computing Lab - Member
Publications
Journal article
| | | | |
| --- | --- | --- | --- |
| 2019 | Bednar, Kathrin, Spiekermann-Hoff, Sarah, Langheinrich, Marc. 2019. Engineering Privacy by Design: Are engineers ready to live up to the challenge? Information Society. 35 (3), 122-142. | (Details) | |
Paper presented at an academic conference or symposium
| | | | |
| --- | --- | --- | --- |
| 2018 | Bednar, Kathrin, Spiekermann-Hoff, Sarah. 2018. Aware but not in control: A qualitative value analysis of the effects of new technologies. 13th IFIP TC 9 International Conference on Human Choice and Computers, HCC13 2018, Poznan, Polen, 19.09.-21.09. | (Details) | |
| 2017 | Bednar, Kathrin, Spiekermann-Hoff, Sarah. 2017. Understanding software engineers' attitude towards information privacy. CEPE/ETHICOMP 2017, Turin, Italien, 05.06.-08.06. | (Details) | |
Working/discussion paper, preprint
| | | | |
| --- | --- | --- | --- |
| 2019 | Spiekermann-Hoff, Sarah, Winkler, Till, Bednar, Kathrin. 2019. A Telemedicine Case Study for the early phases of Value based Engineering. Working Paper Series/Institute for IS & Society Vol. 1. | (Details) | |