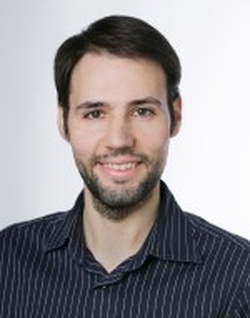 Javier David Fernandez Garcia
Dr.
Javier David
Fernandez Garcia
Telephone:

Email:
Contact information and photo taken from and editable at WU Directory.
Affiliation
CV
since 2015
Project Staff Member
2014
Postdoctoral Research Fellow, Sapienza Universita di Roma, Italy
Researcher Identifier
Awards and Honors
2015

Best Poster Award. 11th International Conference on Semantic Systems (SEMANTiCS)

2014

Best Thesis in the field of Information Retrieval, from the Spanish Society of Information Retrieval (SERI)

2011

Best Challenge Paper Award. 1st International Workshop on Usage Analysis and the Web of Data (USEWOD 2011). An Empirical Study of Real-World SPARQL Queries. In conjunction with Mario Arias and Miguel A. Martínez-Prieto.
Best Management/Policy track Paper Award. 12th Annual International Conference on Digital Government Research (dg.o 2011). Publishing Open Statistical Data: the Spanish Census. In conjunction with Miguel A. Martínez-Prieto and Claudio Gutiérrez
Best Poster Award. 7th Reasoning Web Summer School (RW 2011).
Classifications
Expertise
Activities
Position in jury, advisory board, curatorship
2017
Ghent University - Faculty reading committee of the PhD thesis of Miel Vander Sande: "Metadata and Control Features for Low-Cost Linked Data Publishing Infrastructures"
2015
University of Valladolid - Faculty committee of the PhD thesis of Mohammad Sadeghi "Recuperación de Información en Persa: Revisión Crítica y Propuestas de Mejora"
Editor of a scientific journal
since 2017
- Guest Editor of the Special Issue on Managing the Evolution and Preservation of the Data Web, Journal of Web Semantics
Member of the editorial board
since 2018
Journal of Web Semantics
Invitation to Research Seminar
2017
- Participation in the Dagshtul Seminar 17441 – Big Stream Processing Systems
Organization scientific meeting (Conference etc.)
2017
- Chair of 1st Scientometrics Workshop in conjunction with ESWC 2017
since 2016
- Chair of 3rd Workshop on Managing the Evolution and Preservation of the Data Web, MEPDaW 2017, in conjunction with ESWC 2017

2016

-

2017

- Poster & Demo Chair, SEMANTiCS conference 2017

2015

-

2016

- Chair of 2nd Workshop on Managing the Evolution and Preservation of the Data Web, MEPDaW 2016, in conjunction with ESWC 2016
Research and Teaching Stay
2017
VU University Amsterdam - Research stay (September 2017)