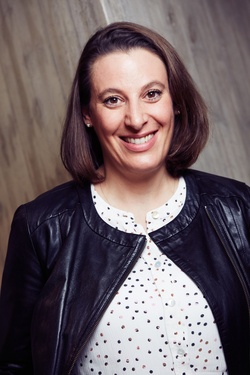 Nadia Abou Nabout
Univ.Prof. Dr.
Nadia
Abou Nabout
Telephone:

Email:

About me:

• Online Display Advertising • Programmatic Buying and Real-Time Bidding • Search Engine Advertising • Influencer Marketing
Contact information and photo taken from and editable at WU Directory.
Affiliation
CV
since 2014
Professor of Interactive Marketing & Social Media, Vienna University of Economics and Business, Austria
2014
Tenure Track Professor of Technology Marketing, Technische Universität München, Germany
2013
Visiting Scholar, Özyeğin in University, Istanbul, Turkey

2012

-

2014

Postdoctoral Research Fellow, Goethe University Frankfurt, Germany
2011
Visiting Scholar, Robert H. Smith School of Business, University of Maryland, USA

2009

-

2012

Doctoral Student, Goethe University Frankfurt, Germany
Researcher Identifier
No researcher identifier found.
Awards and Honors
2022

Outstanding Member of the ERB 2022, International Journal of Research in Marketing

2021

WU Award for Star Journal Publication

2017

Researcher of the Month, WU Vienna

2013

EHI Retail Institute and GS1 Germany (Winner), Wissenschaftspreis
EMAC-McKinsey (Winner), Marketing Dissertation Award
Horizont Stiftung (Winner), Förderpreis
Stiftung Industrieforschung (Winner), Dissertation Award
Vodafone-Stiftung für Forschung (Winner), Fritz-Joussen-Preis

2012

Alcatel-Lucent Stiftung (Winner), Dissertation Award
Dean's Publication Award/Sturm und Drang Preis (Runner-Up), B. Skiera and Abou Nabout, N. (2012): PROSAD: A Bidding Decision Support System for PRofit Optimizing Search Engine ADvertising
Emerald/EFMD (Winner) 2012 Emerald/EFMD Outstanding Doctoral Research Award
Industrie- und Handelskammer Frankfurt a.M. (Winner), Dissertation Award
International Journal of Research in Marketing, Best Paper Award 2012
McKinsey & Company (Second Place), Business Technology Award

2011

Gary L. Lilien ISMS-MSI Practice Prize Competition (Finalist), B. Skiera and Abou Nabout, N. (2012): PROSAD: A Bidding Decision Support System for PRofit Optimizing Search Engine ADvertising
Classifications
Expertise
Influencer Marketing
Online Display Advertising
Programmatic Advertising
Search Engine Advertising
Activities
Position in committee for appointments
2021
WWU Münster - Reviewer
2019
WWU Münster - Reviewer
2018
Bocconi University - Reviewer
Position in internal committee for appointments
2021
Marketing with focus on B2B - Head of committee
2021
Marketing in a global economy - Head of committee
2020
Marketing with focus on retailing and data science - Committee member
2020
Distributed ledgers and token economy 2 - Committee member
2019
Marketing in a digital economy - Head of committee
2019
Distributed ledgers and token economy 1 - Committee member
2017
Finance - Committee member
Position in internal habilitation committee
2021
Dr. Thomas Rusch - Committee member
2020
Prof. Dr. Nils Wlömert - Head of committee
2020
Dr. Katerina Makri - Committee member
2020
Dr. Cristina Cabanillas - Committee member
2018
Prof. Dr. Ulrike Kaiser - Committee member
Reviewer for scientific organization
since 2017
Netherlands Organisation for Scientific Research - Reviewer
since 2016
Stiftung Industrieforschung - Reviewer
since 2016
Deutsche Forschungsgemeinschaft (DFG) - Reviewer
Member of the editorial board
since 2021
Schmalenbach Journal of Business Research - Member Editorial Board
since 2019
International Journal of Research in Marketing - Member Editorial Board
since 2015
transfer Zeitschrift - Werbeforschung & Praxis - Member Editorial Board
Reviewer for a scientific journal
since 2021
PLOS ONE - Reviewer
since 2020
Management Science - Reviewer
since 2020
Journal of Media Economics - Reviewer
since 2019
Journal of Marketing - Reviewer
since 2017
Production and Operations Management - Reviewer
since 2017
Journal of Marketing Behavior - Reviewer
since 2017
International Journal of Research in Marketing - Reviewer
since 2016
Marketing Science - Reviewer
since 2013
Journal of Interactive Marketing - Reviewer
since 2012
Electronic Commerce Research Journal - Reviewer
since 2012
BISE/Wirtschaftsinformatik - Reviewer
Organisation of Research Seminar
since 2019
Research seminar series - Organizer

2015

-

2017

Department colloquium - Initiator & organizer
Reviewer for an international conference
since 2017
Verein für Socialpolitik 2017 - Reviewer
since 2017
EMAC Regional Conference 2017 - Reviewer
since 2014
European Marketing Academy (EMAC) - Reviewer
since 2013
European Conference on Information Systems (ECIS) - Reviewer
Organization scientific meeting (Conference etc.)
2019
SALTY Konferenz - Organizer
Organization other meeting (Excursion etc.)
2021
WU matters. WU talks. Post-Cookie Ära - Organizer
2017
WU matters. WU talks. Influencer Marketing - Organizer
Position in administration
since 2020
MSc Marketing - Deputy program director
since 2019
Senat - Member

2016

-

2018

Studienkommission - Member

2016

-

2018

Kommission "Excellent Teaching Award" - Member
since 2016
Doktoratsbeauftragte - Member
Academic advisor
since 2015
Bogaziçi University, Koç University, Sabanci University
Supervisor dissertation
2018
Sila Ada, PhD - Advisor
2017
Dr. Silke Hieke - Committee member
2017
Dr. Martin Stange - Committee member
2016
Dr. Markus Hagenmeier - Committee member
Mentoring
since 2021
Goethe Universität Frankfurt - Mentor
2017
WU4YOU's scholarship program - Mentor
Other scientific activities
2019
Universität Tübingen - Reviewer of study program
Projects
2015

Data in Real-Time Online Advertising (2015-2016) (Details)