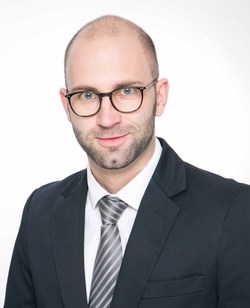 Björn Schmeißer
Dr.
Björn
Schmeißer
Telephone:

Email:
Contact information and photo taken from and editable at WU Directory.
Affiliation
CV
since 2018
Assistant Professor, WU Vienna/AUT
2018
PhD, WU Vienna/AUT
since 2013
Deutsche Bundesbank, Frankfurt/GER (Guest researcher)

2013

-

2018

Research Associate, WU Vienna/GER

2012

-

2013

Research Associate, University of Augsburg/GER

2010

-

2012

Research Associate, University of Mannheim/GER
2010
M.Sc., University of Technology Darmstadt/GER
2002
A-levels, Franziskanergymnasium Kreuzburg, Großkrotzenburg/GER
Researcher Identifier
No researcher identifier found.
Awards and Honors
2019

2019 ITC & Emerald Best International Dissertation Award - Finalist
Best Reviewer Award 2019 (IM Division), Academy of Management
Stephan Koren-Preis 2019
Classifications
No classifications found.
Expertise
Activities
Attendance scientific meeting (Conference etc.)
2019
Verband der Hochschullehrer für Betriebswirtschaftslehre e.V. (VHB) - VHB-Arbeitstagung "Blockchain - Anwendungspotentiale und Forschungsherausforderungen"
2019
Academy of Management - Junior Faculty Consortium IM Division
Publications
Journal article
| | | | |
| --- | --- | --- | --- |
| 2020 | Fisch, Jan Hendrik, Schmeißer, Björn. 2020. Phasing the operation mode of foreign subsidiaries: Reaping the benefits of multinationality through internal capital markets. Journal of International Business Studies JIBS. | (Details) | |
| 2019 | Fisch, Jan Hendrik, Schmeißer, Björn. 2019. Upgrading local operations for global arbitrage. Long Range Planning. 52 (4) | (Details) | |
| 2017 | Gleich, Wolfgang M., Schmeißer, Björn, Zschoche, Miriam. 2017. The influence of competition on international sourcing strategies in the service sector. International Business Review 26 (2), 279-287. | (Details) | |
| 2013 | Schmeißer, Björn. 2013. A Systematic Review of Literature on Offshoring of Value Chain Activities. Journal of International Management 19 (4): S. 390-406. | (Details) | |
Paper presented at an academic conference or symposium
| | | | |
| --- | --- | --- | --- |
| 2019 | Fisch, Jan Hendrik, Herzog, Valerie, Schmeißer, Björn. 2019. Adoption of product standards in markets with network effects. Nachwuchsworkshop VHB Kommission INT, Trier, Deutschland, 01.05. | (Details) | |
| 2018 | Fisch, Jan Hendrik, Schmeißer, Björn. 2018. Using and disposing of joint venture partners to reap the benefits of multinationality. Academy of Management, Chicago, Vereinigte Staaten/USA, 10.08.-14.08. | (Details) | |
| | Fisch, Jan Hendrik, Schmeißer, Björn. 2018. Using and disposing of joint venture partners to reap the benefits of multinationality. VHB, wiss. Kommission INT, Kiel, Deutschland, 27.04.-28.04. | (Details) | |
| 2017 | Fisch, Jan Hendrik, Schmeißer, Björn. 2017. Upgrading local operations for global arbitrage. Australia New Zealand International Business Academy (ANZIBA), Adelaide, Australien, 15.02.-17.02. | (Details) | |
| | Fisch, Jan Hendrik, Schmeißer, Björn. 2017. Using and disposing of joint venture partners to appropriate foreign resources. Strategic Management Society (SMS) Special Conference, Banff, Canada, 02.06.-04.06. | (Details) | |
| | Fisch, Jan Hendrik, Schmeißer, Björn. 2017. Using and disposing of joint venture partners to reap the benefits of multinationality. European International Business Academy, Milan, Italy, 14.12.-16.12. | (Details) | |
| 2016 | Fisch, Jan Hendrik, Schmeißer, Björn. 2016. Benefitting from Multinationality through Global Arbitrage: A Transactional Network Perspective on Foreign Operation Upgrades. European International Business Academy, Wien, Österreich, 02.12.-04.12. | (Details) | |
| | Fisch, Jan Hendrik, Schmeißer, Björn. 2016. Upgrading local operations for global arbitrage. VHB Kommission INT, Fribourg, Switzerland, 15.04.-16.04. | (Details) | |
| 2015 | Fisch, Jan Hendrik, Schmeißer, Björn. 2015. An international arbitrage perspective on expanding foreign sales activities towards production. Academy of Management, Vancouver, Kanada, 07.08.-11.08. | (Details) | |
| | Fisch, Jan Hendrik, Schmeißer, Björn. 2015. Backward integration of foreign sales activities into production: a resource flow perspective. European International Business Academy, Rio de Janeiro, Brasilien, 01.12.-03.12. | (Details) | |
| | Fisch, Jan Hendrik, Schmeißer, Björn. 2015. Backward integration of foreign sales activities into production: an operational flexibility perspective. Kommission INT, Fribourg, Schweiz, Switzerland, 17.04.-18.04. | (Details) | |
| | Fisch, Jan Hendrik, Schmeißer, Björn. 2015. Backward integration of foreign sales activities into production: an operational flexibility perspective. Academy of International Business, Bangalore, Indien, 27.06.-30.06. | (Details) | |
| 2014 | Fisch, Jan Hendrik, Schmeißer, Björn. 2014. Backward integration of foreign sales activities into production: an operational flexibility perspective. Strategic Management Society, Madrid, Spanien, 20.09.-23.09. | (Details) | |
| | Gleich, Wolfgang M., Schmeißer, Björn. 2014. International sourcing strategy in the service industry – A competitive perspective. Academy of International Business, Vancouver, Kanada, 23.06.–26.06. | (Details) | |
| 2013 | Gleich, Wolfgang M., Schmeißer, Björn. 2013. International Sourcing - A Competitive Perspective. Academy of International Business, Istanbul, Türkei, 03.07.–06.07. | (Details) | |
| | Gleich, Wolfgang M., Schmeißer, Björn. 2013. International Sourcing of Service MNEs – A Competitive Perspective. European International Business Academy, Bremen, Deutschland, 12.12.-14.12. | (Details) | |
| 2012 | Schmeißer, Björn. 2012. In the Light of Theory: The "Offshoring - Competitive Advantage"- Relationship (and why 'Distance' matters again). European International Business Academy, Brighton, Großbritannien, 07.12.-09.12. | (Details) | |
| | Schmeißer, Björn. 2012. Offshoring of value activities: a critical literature review and conceptual framework. European International Business Academy, Brighton, Großbritannien, 07.12.-09.12. | (Details) | |
Unpublished lecture
| | | | |
| --- | --- | --- | --- |
| 2017 | Fisch, Jan Hendrik, Schmeißer, Björn. 2017. Using and disposing of joint venture partners to reap the benefits of multinationality. 4th WU Paper Development Workshop "Advancing Finance Perspectives in IB Research", Vienna, 28.08.17 | (Details) | |
| 2015 | Fisch, Jan Hendrik, Schmeißer, Björn. 2015. The role of international arbitrage opportunities for multinational enterprises' foreign operation mode strategies. 1st WU Paper Development Workshop "Advancing Finance Perspectives in IB Research", Vienna, 28.09.15 | (Details) | |
| 2012 | Schmeißer, Björn. 2012. Offshoring of value activities: a critical literature review and conceptual framework. Academy of Management, Boston, 05.08.12 | (Details) | |