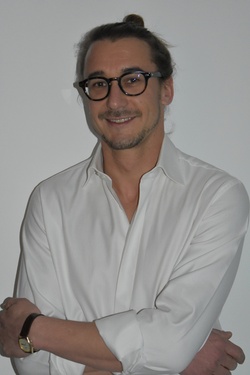 Gregor Kastner
Mag.rer.soc.oec. MMag.rer.nat. Dipl.-Ing. Dr.techn.
Gregor
Kastner
Telephone:

Email:

About me:

I am interested in Bayesian modelling of time series data, mainly through Markov chain Monte Carlo (MCMC) methods. This usually requires high performance computing infrastructures. My current research focus is the efficient Bayesian estimation of multivariate stochastic volatility (SV) and vector autoregressive (VAR) models.
Contact information and photo taken from and editable at WU Directory.
Affiliation
CV
2014
Dr.techn. (JKU Linz, WU Vienna: Applied Mathematics)
2011
Mag.rer.nat. (University of Vienna: Physical Education)
2009
Mag.rer.nat. (Vienna University of Technology, University of Vienna: Computer Science)
2009
Mag.rer.soc.oec. (Vienna University of Technology, University of Vienna: Informatics Managment)
2006
Dipl.-Ing. (Vienna University of Technology, ETH Zurich: Applied Mathematics)
Researcher Identifier
Awards and Honors
2020

Researcher of the Month (June)

2017

Winner: Excellent Teaching Award. WU Vienna

2016-2020

Nominee: Excellent Teaching Award. WU Vienna

2016

Junior Travel Grant, ISBA 2016 World Meeting

2015

Winner: Best Dissertation Award, Austrian Statistical Association

2014

Junior Travel Grant, 5th IMS-ISBA joint meeting MCMSki IV
Junior Travel Grant, ISBA 2014 World Meeting
Promotio sub auspiciis Praesidentis rei publicae
Stipend of Excellence, Federal Ministry of Science, Research and Economy
Testimonial, Governor of Upper Austria
Winner: Best Student Paper Award (for the paper "Dealing with stochastic volatility in time series using the R package stochvol"), R/Finance 2014, Chicago

2012

Junior Travel Grant, ISBA 2012 World Meeting
Classifications
Expertise
Bayesian statistics
Bayesian vector autoregressions (VARs)
Markov chain Monte Carlo methods
Shrinkage estimation
Statistical modelling of economic time series
Stochastic volatility
Activities
Position in scientific committee
since 2020
European Seminar on Bayesian Econometrics (ESOBE) - Board Member
Position in jury, advisory board, curatorship
since 2019
International Society for Bayesian Analysis (ISBA) - Member of the ISBA Continuing Education Committee

2018

-

2020

WU Wien - Mitglied der Studienkommission

2018

-

2020

WU Wien - Member of the Task-Force "Zulassungsverfahren & Soziale Dimension"

2017

-

2020

WU Wien - Mitglied der Departmentkonferenz
Position in internal habilitation committee
2017
WU Wien - Kommissionsmitglied Mittelbau, Schriftführer
Reviewer for scientific organization
2019
Uppsala University, Department of Statistics - Thesis Opponent
Membership in scientific association
since 2015
Österreichische Mathematische Gesellschaft (ÖMG)
since 2015
Foundation for Open Access Statistics (FOAS)
since 2013
European Network for Business and Industrial Statistics (ENBIS)
since 2012
Österreichische Statistische Gesellschaft (ÖSG)

2012

-

2016

American Statistical Association (ASA)
since 2011
International Society for Bayesian Analysis (ISBA)
Member of the editorial board
since 2021
ISBA Bulletin - Editor

2018

-

2020

ISBA Bulletin - Associate Editor
since 2016
Journal of Statistical Software - Assistant Editor
Reviewer for a scientific journal
since 2021
North American Journal of Economics and Finance
since 2021
European Economic Review
since 2020
Statistical Science
since 2020
Stat
since 2020
Scandinavian Journal of Statistics
since 2020
Journal of Time Series Analysis
since 2020
IMA Journal of Management Mathematics
since 2020
EPJ Data Science
since 2019
Journal of International Money and Finance
since 2019
Journal of Economic Dynamics and Control
since 2019
Communications in Statistics - Case Studies and Data Analysis
since 2018
Studies in Nonlinear Dynamics and Econometrics
since 2018
Statistical Papers
since 2018
Journal of the Royal Statistical Society: Series B (Statistical Methodology)
since 2018
Journal of Econometrics
since 2018
Journal of Applied Econometrics
since 2018
Bayesian Analysis
since 2017
Scientific Reports
since 2017
Journal of Financial Econometrics
since 2017
Journal of Computational and Graphical Statistics
since 2017
Journal of Banking and Finance
since 2017
Journal of Applied Statistics
since 2017
International Journal of Computational Economics and Econometrics
since 2017
Computational Management Science
since 2017
Communications in Statistics - Simulation and Computation
since 2016
Technology Transfer and Entrepreneurship
since 2016
Statistics and Computing
since 2016
Mathematics and Computers in Simulation
since 2016
Journal of Business and Economic Statistics
since 2016
Econometrics and Statistics
since 2015
Quality and Reliability Engineering International
since 2015
Journal of Empirical Finance
since 2015
Applied Stochastic Models in Business and Industry
since 2014
Statistics and Probability Letters
since 2014
Journal of Statistical Software
since 2013
Journal of the American Statistical Association
since 2012
Computational Statistics & Data Analysis
since 2011
Communications in Statistics - Theory and Methods
Invitation to Research Seminar
2020
University of Montreal, Séminaire Marcel-Dagenais en économétrie 2020-2021, 26.11. - Talk "Efficient Bayesian Inference in High Dimensional Time Series : Examples from Macroeconomics and Finance"
2019
University of Klagenfurt, Department of Statistics, 06.05. - Talk "Sophisticated and small versus simple and sizeable: When does it pay off to introduce drifting coefficients in Bayesian VARs?"
2019
Erasmus University Rotterdam,Tindbergen Institute, 04.04. - Talk "Efficient Bayesian Inference in High Dimensional Time Series: Examples from Macroeconomics and Finance"
2018
University of Copenhagen, Department of Economics, 08.08. - Talk "Sophisticated and small versus simple and sizeable: When does it pay off to introduce drifting coefficients in Bayesian VARs?"
2018
TU Wien, Colloquium in Statistics and Mathematical Methods in Economics, 23.05. - Talk "Sparse Bayesian Vector Autoregressions in Huge Dimensions"
2018
TU Munich / LMU, Oberseminar Finanz- und Versicherungsmathematik, 07.05. - Talk "Bayesian Time-Varying Covariance Estimation in Many Dimensions using Sparse Factor Stochastic Volatility Models"
2017
UCLouvain, Belgium, Center for Operations Research and Econometrics (CORE), Econometrics and Finance Seminar, 10.03. - Talk "Bayesian Estimation and Prediction of High-Dimensional Dynamic Covariance Matrices"
2017
Institute for Advanced Studies, Vienna, Austria, Econometrics Research Seminar, 12.01. - Talk "Should I Stay or Should I Go? Bayesian Inference in the Threshold Time Varying Parameter (TTVP) Model"
2014
Institute for Advanced Studies, Vienna, Austria, Econometrics Research Seminar, 24.06. - Talk "Efficient Bayesian Inference for Univariate and High-Dimensional Stochastic Volatility Models"
2013
JKU Linz, Austria, Institut für Angewandte Statistik, 08.03. - Talk "About Speeding Up Statistical Computing with Applications in R"
Reviewer for a series
2018
Proceedings of the 4th Bayesian Young Statisticians Meeting (BAYSM 2018)
2014
Proceedings of the 2nd Bayesian Young Statisticians Meeting (BAYSM 2014)
Organization scientific meeting (Conference etc.)
2021
European Seminar on Bayesian Econometrics (ESOBE) - Co-Chair of the Scientific Program Commitee
2020
3rd International Data Science Conference 2020 (iDSC'20) - Program Committee
2019
Young Business and Industrial Statisticians (y-BIS) Workshop on Recent Advances in Data Science and Business Analytics - Scientific Program Committee
2018
BAYESCOMP 2018 - Invited Session Organizer
2014
2nd Bayesian Young Statisticians Meeting (BAYSM 2014) - Local Organizing Committee / Scientific Program Committee
2013
18th European Young Statisticians Meeting - International Organizing Committee / Scientific Program Committee
Position in administration

2018

-

2020

WU Wien - Mitglied der Studienkommission
since 2017
Department of Finance, Accounting & Statistics - Mitglied der Departmentkonferenz
Research and Teaching Stay
2018
University of Copenhagen, Department of Economics - Lectures on Stochastic Volatility at a Summer School on Bayesian Econometrics
2016
Jiangxi University of Finance and Economics - Teaching Stay (March/April '16)
2015
Jiangxi University of Finance and Economics - Teaching Stay (March/April '15)
2014
Jiangxi University of Finance and Economics - Teaching Stay (April/May '14)
2013
The University of Chicago Booth School of Business - Visiting Scholar (July '13)
Attendance scientific meeting (Conference etc.)
2012
Statistische Woche 2012, September 18-21, 2012, Vienna
2012
Massively Parallel Computing in Economics and Finance, May 5, 2012, Rotterdam
2011
European Seminar on Bayesian Econometrics, November 4-5, 2011, Brussels
Projects
2019

High-dimensional statistical learning: New methods to advance economic and sustainability policies (2019-2023) (Details)