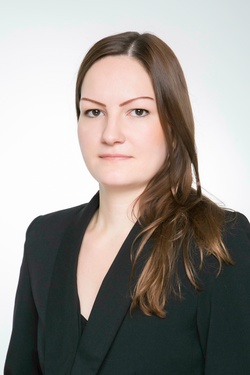 Edith Ipsmiller
Dr.
Edith
Ipsmiller
Telephone:

Email:
Contact information and photo taken from and editable at WU Directory.
Affiliation
CV
No curriculum entries found.
Researcher Identifier
No researcher identifier found.
Awards and Honors
2020

Douglas Nigh Award Finalist

2019

AIB-UKI Adam Smith Best Doctoral Dissertation Award Winner
Copenhagen Business School Prize Finalist
The Peter J. Buckley & Pervez N. Ghauri Prize for the Best Early Career Research Paper Winner
Classifications
No classifications found.
Expertise
Activities
Position in internal committee for appointments
2020
WU - Schriftführerin in Berufungskommission

2018

-

2019

WU - Keeper of the minutes
Position in internal habilitation committee
2021
WU - Schriftführerin in Habilitationskommission
2020
WU - Habilitationskommissionsmitglied
Membership in scientific association
since 2013
Academy of International Business - Member
since 2011
European International Business Academy - Member
Reviewer for a scientific journal
since 2021
International Journal of Managerial and Financial Accounting - Reviewer
since 2020
The Economics of Transition - Reviewer
since 2020
Jounal of International Management - Reviewer
since 2020
International Business Review - Reviewer
since 2020
European Management Review - Reviewer
since 2019
Multinational Business Review - Reviewer
since 2019
International Journal of Management Reviews - Reviewer
since 2018
Emerald Journals - European Journal of Innovation Management - Reviewer
Invitation to Research Seminar
2018
Henley Business School, University of Reading - Invited talk
Reviewer for an international conference
since 2019
Academy of International Business UK&Ireland Chapter - Reviewer
since 2013
AIB - Reviewer
since 2011
EIBA - Reviewer
Research Cooperation
since 2018
Henley Business School, University of Reading - Paper cooperation
since 2017
TU Wien - Paper cooperation
since 2011
King's College London - Paper cooperation
Research and Teaching Stay
2019
University of Sarajevo, Faculty of Economics and Business - Lehraufenthalt
2018
University of Belgrade, Faculty of Economics - Teaching exchange
2018
Henley Business School, University of Reading - Research stay
Attendance scientific meeting (Conference etc.)
2019
EIBA - Panellist and Paper presentation
2019
AIB-UKI - Paper-Präsentation
2019
AIB - Paper-Präsentation
2018
CiMaR - Paper presentation
2018
AMA Global Marketing SIG - Paper presentation
Mentoring
since 2020
WU Wien - Academic Coach - WU4YOU